2 minutes to read
Welcome to #effitfriday for the week of 22nd July, guest hosted by yours truly while the lovely Laura is gallivanting overseas. I'll be with you for a few weeks before handing over the reigns to the superb Hayley at Sparkles and Stretchmarks.
What is #effitfriday?
Basically, your chance to have a sodding good moan, let off some steam, or just have a mild-mannered whinge. If it'll make you feel better, share it with us – it can be funny or serious, as long as it makes the reader want to do a good old fist pump at whoever / whatever has pissed you off.
My #effitfriday rant!
Do you ever have a heart stopping moment when you realise that you're SO dependent on your phone that it's actually quite unnerving? I lost mine recently so this is my ranty version of events.
My #effitfriday Rant of the Week for 15th July
I loved reading all the entries last week but James from @joshuasdadjames had me proper cackling with his description of brambles in Filth I Tell You. Well done James and thanks for sharing! Sorry there's no special badge. But you can always copy and paste this paragraph as proof.
New week, new effs!
Let's get going then. Here's your badge to grab, first and foremost: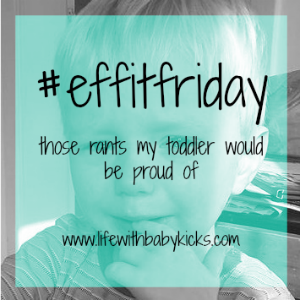 As always there are only 2 rules* for #effitfridays, the ultimate rant linky:
(Yeah, I've added a third. Sorry Laura.)
1. Add the badge to your post
2. Comment on at least 2 other posts INCLUDING the post directly before yours. A linky with no comments is just a group of sad, ranty posts with no-one to love them.
3. My bonus rule (ahem) – please comment on my host post, if you have time. I'm still a bit of a fledgling and I've promised myself a present when I hit 1000 followers. So any likes, comments and retweets would be marvellous, but I won't hold it against you (much) if you choose to flout this rule.
Please feel free to link as many posts as you wish on your social media.
Make sure to tweet me your link on Twitter @Mousemoo_Metoo using #effitfriday and I will do my very darndest to retweet you and comment on your posts.
The linky will run from 6am GMT Friday till 23:55pm GMT Tuesday.
Ready spaghetti? Get ranting!